Intelligent Russian company information check
Kontur.Focus is a web service that will help you quickly check and evaluate the risks of doing business in Russia and find proper companies, which can become your paying customers and suppliers from Russia.
Russian company information
Company's address, incorporation date, status of business activity, a field of business, names of the present and former leaders and founders of the company — all this and many more information is available in Kontur.Focus and updated online.
The search is possible by company details and their combination: name, address, leader's and founder's names, company registration number in Russia and etc.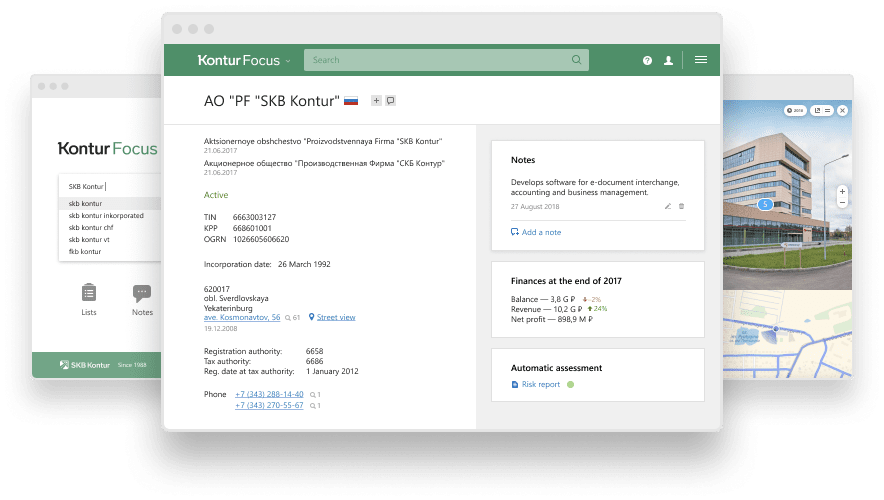 ---
Unlimited reports with detailed risk assessment of each company
Express risk report on each company helps immediately assess the risks of doing business with Russian company and give recommendations on how to reduce them:
availability of enforcement proceedings, a large number of arbitration cases;
negative financial indicators;
bankruptcy reports;
signs of business activity of the company.
---
Connections between companies and individuals
Kontur.Focus allows following all connections between companies, leaders of the companies, founders and assessing Russian business environment.
---
Possibilities for your business
You can receive information in web-service as well as integrate API into your systems.
Risk reports will help you identify the risks of working with companies.
Download results of checks in a convenient format.
Create, save and share notes.
---
Start your free trial today!
About us
Kontur develops software for business enabling easy cooperation between companies and their partners, companies and government as well as streamline internal business processes.
More about us
Top-10
Russian IT vendors
4th place in the ranking of high-tech fast-growing Russian companies and 7th of 40 in 2017 among the largest Russian software development companies, according to CNews Analytics.
1 970 000
clients
Our products are widely used by corporations as well as small entrepreneurs all over Russia.
10 230
partners
SKB Kontur has partners in all regions of Russia, Europe and the United States.
Our services are used by